Chiesa Valmalenco is one of the ski resorts in the Alpine area of Lombardy. The valley is located at a branch at Sondrio and can be easily reached in a few hours' drive from Milan.
The beautiful Valmalenco Church guarantees breathtaking peaks and lush nature and a strong culture preserved by the community that makes the area alive and active, offering many activities that can be experienced during the winter season and beyond. So let's find out what are the 10 things to do and not to miss in Chiesa Valmalenco.
1. Skiing in Chiesa Valmalenco Bernina Ski Resort
A well-known ski resort in Lombardy, Chiesa Valmalenco has almost 60 km of slopes that wind around the Palù alp, allowing skiers to test themselves on slopes for all levels, from beginners to experts. But for experts in particular, we cannot but recommend the Thoeni, a black slope with an impressive wall, which only the bravest will want to tackle.
The Valmalenco Bernina Ski Resort with its Alpe Palù and Caspoggio areas is characterised by consistently groomed pistes and a record-breaking facility, the Snow Eagle, the world's largest cable car with 160-person cabins that take skiers from the village's altitude of around 1,000 metres to an altitude of 2,080 metres.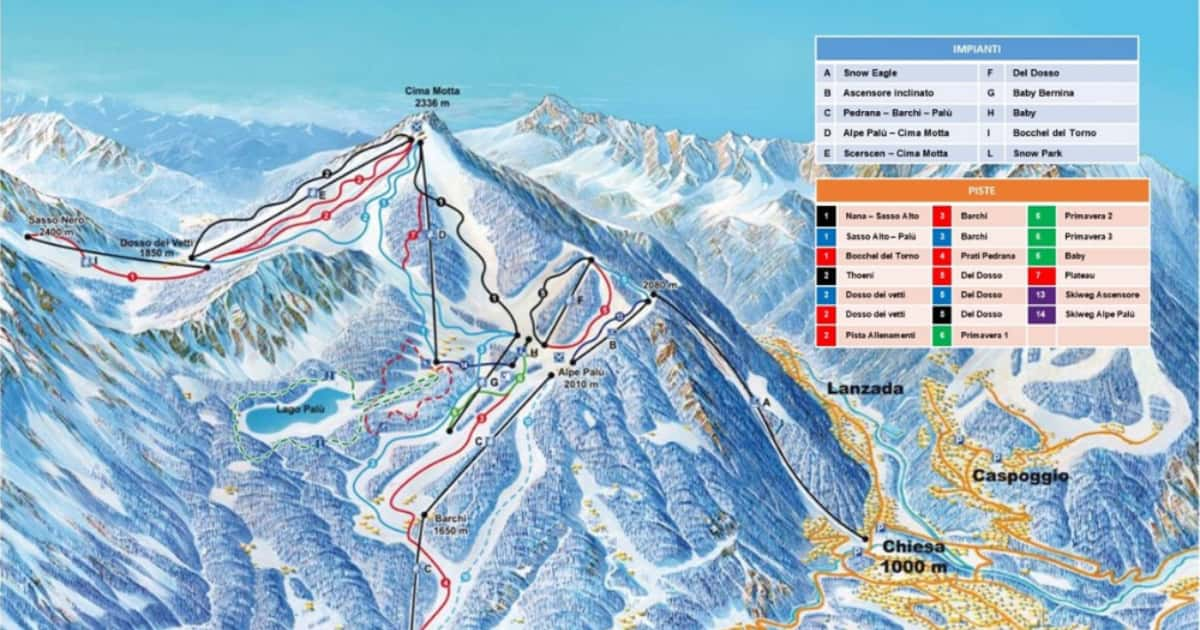 2. Ski mountaineering and freeriding in Chiesa Valmalenco
Chiesa Valmalenco is a true ski mountaineering paradise, as it is possible to venture on many excursions in the area of the Bernina glaciers or Mount Disgrazia. We particularly highlight Pizzo Cassandra and Pizzo Scalino as territories also practised for the Cai advanced course (Sa2).
However, for those who do not like skins, or for freeride enthusiasts, it is possible to use the lifts and then go off-piste or book a heli-ski flight to reach more distant places in and around Valmalenco.
3. Try your hand at stunts at the Palù Park snowpark
The Palù Park is a reference point for many riders, the likes of Nicolino Dioli (Italian national freestyle snowboarder) grew up here. For those who love jumps, evolutions and fun, the snowpark in Chiesa Valmalenco is the right place. In fact, the snowpark is very well equipped with various lines and structures to enjoy tricks on snowboards and freestyle skis and is also perfect for those just starting to experiment with freestyle.
The Palù Park is divided into two main areas: the Park one with an 11-metre jump, a 9-metre funbox and a rail line with a 4-metre quarter with rail on the coping and final rail at the exit and the Park two has a box line with a 6-metre straight box and a flat-descent box of the same length, a series of jumps from 3 to 7 metres, a real line with pipes and tanks, and closing with three 7-metre funbox lines. There really is something for everyone!
4. Hiking to Lake Palù
Lake Palù is one of the most magical places in this locality, a very impressive alpine lake at about 2000m that naturally freezes over during the winter season. Once at the lake, it is possible to take a circular route along its shores and make a gourmet stop at the fantastic refuge of the same name. Lake Palù is a destination that can be reached both in summer with pleasant walks and in winter when it turns into a cross-country skiing area.
5. Cross-country skiing in Chiesa Valmalenco
In Chiesa Valmalenco, cross-country skiing is an institution with perfect tracks and loops for all fans of this discipline. In fact, there are the natural slopes of Lake Palù that wind for 17km at an altitude of 2000m, the cross-country skiing rings in San Giuseppe (up to 30km) and another 7km in Lanzada with about 1km artificially lit for those who want to experience night training.
6. Staying in a glamping at high altitude
2Cuori in pista is the first suite built inside a snowcat. A night in this glamping in Chiesa Valmalenco is a unique and romantic experience in direct contact with nature, ideal for a Valentine's Day in the mountains. The brand new high-altitude glamping consists of a suite immersed in nature that includes a small corner bar where you can find typical Valmalenco products, room service with breakfast, and transport by snowmobile to the suite or to the huts where you can dine. The perfect place for a romantic ski getaway.
7. Ice skating
Also for skaters or non-skiers, there is a slope in the locality of Ganda in Lanzada at the Pradasc sports centre, easily accessible from Chiesa Valmalenco. The ideal place for those who want to test their balancing skills and who want to have fun with friends and family. It is also nice to remember that this place carries the history of some champions such as the Olympic champion Arianna Fontana, who took her first steps on this very rink.
8. Climbing the ice falls of Chiesa Valmalenco
Have you always dreamt of becoming an enterprising climber? In Chiesa Valmalenco, dreams come true! With the help of certified mountain guides, you can climb a real icefall. The Valmalencoalpina mountain guides will take you on an unforgettable ice climbing excursion in Chiesa Valmalenco through taster trips, workshops and courses for experts. Ice waterfall climbing is an extremely fascinating sport poised between a liquid and a solid state, suitable for adventurous spirits.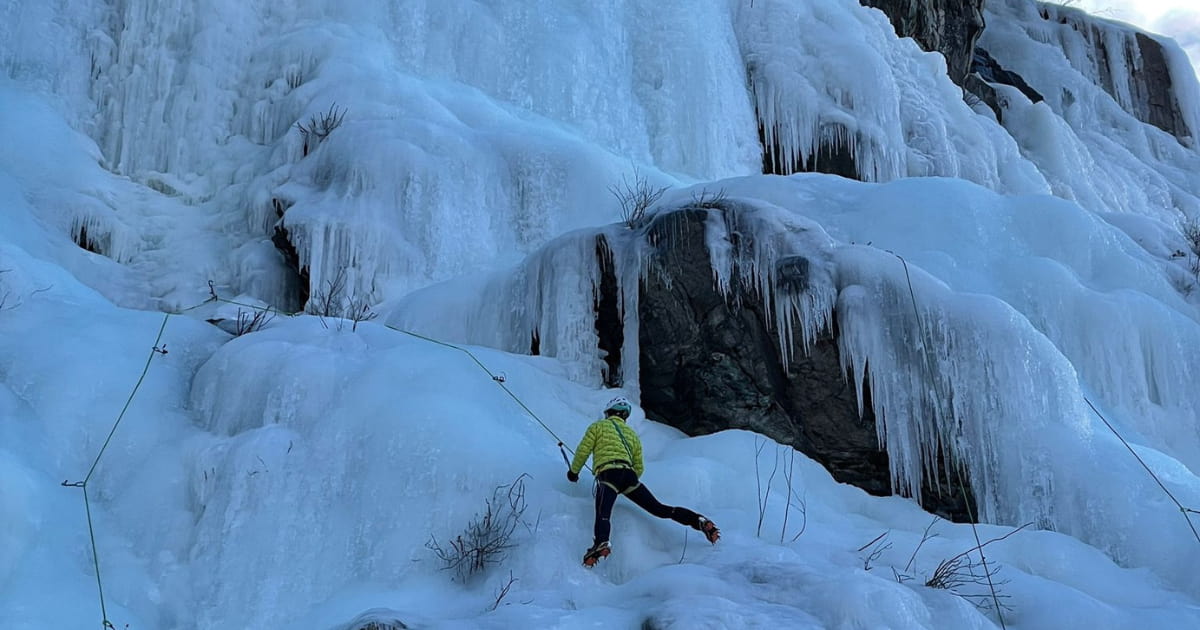 9. Snowshoeing to Lake Palù
Snowshoeing is a growing sport, an activity that will seduce all lovers of relaxation, views and the mountains in all their facets. There are several routes tosnowshoes in Chiesa Valmalenco that will allow you to enjoy the mountain and its beauty in winter,glimpsing the wildlife in the area. Many routes start from the hamlet of San Giuseppe in Valmalenco, where it is possible to choose different routes leading to Lake Palù and the refuge of the same name a little higher up. The easiest route follows the signs for the botanical trail, which is signposted throughout the route. The trail enters snow-covered coniferous forests, occasionally cutting through beautiful scenic alpine pastures.
10. Overnight stay at Hotel Tremoggia in Chiesa Valmalenco
At the Hotel Tremoggia in the village of Chiesa in Valmalenco, you will have the opportunity to taste the best wines in the area, and its wine cellar and restaurant could be the best food and wine experience in the area. In addition, you can enjoy a spa, which you can also reserve for some special dates.