Hey skiers and snow lovers, are you looking for your next skiing adventure near Milan? Well, you found the right guide! The Lombardy city is close to many ski resorts and is therefore the perfect starting point for a day in the snow, avoiding long car journeys.
With the mountains covered by fresh snow and the adrenaline flowing through your veins, it's the perfect time to book your next ski getaway. But don't worry, you won't have to face the queue at the ticket office or panic at the ski rental shop. Luckily there is Snowit, which will help you to find the perfect destination and to book quickly and easily.
So put your skis on and get your sunglasses ready, because we are about to show you the best skiing destinations near Milan.
According to us at Snowit, the best destinations to ski near Milan are:
1. Piani di Bobbio – distance from Milan: 1h 20 min
Piani di Bobbio ski area is particularly convenient for day skiing near Milan, because it is located between the provinces of Lecco and Bergamo and can be reached in just over an hour from the Lombard capital.
The area can be accessed from Barzio or Valtorta, both entrances easily reached by car. The ski resort offers 35 km of alpine ski slopes, suitable for all types of skiers:
Barzio is well equipped with blue and red slopes, making it particularly suitable for beginners or families with children who want to approach the world of skiing
The Valtorta side, with the black slopes Tre Signori and Cedrino, is more suitable for experienced skiers.
Buy your skipass for Piani di Bobbio with Snowit.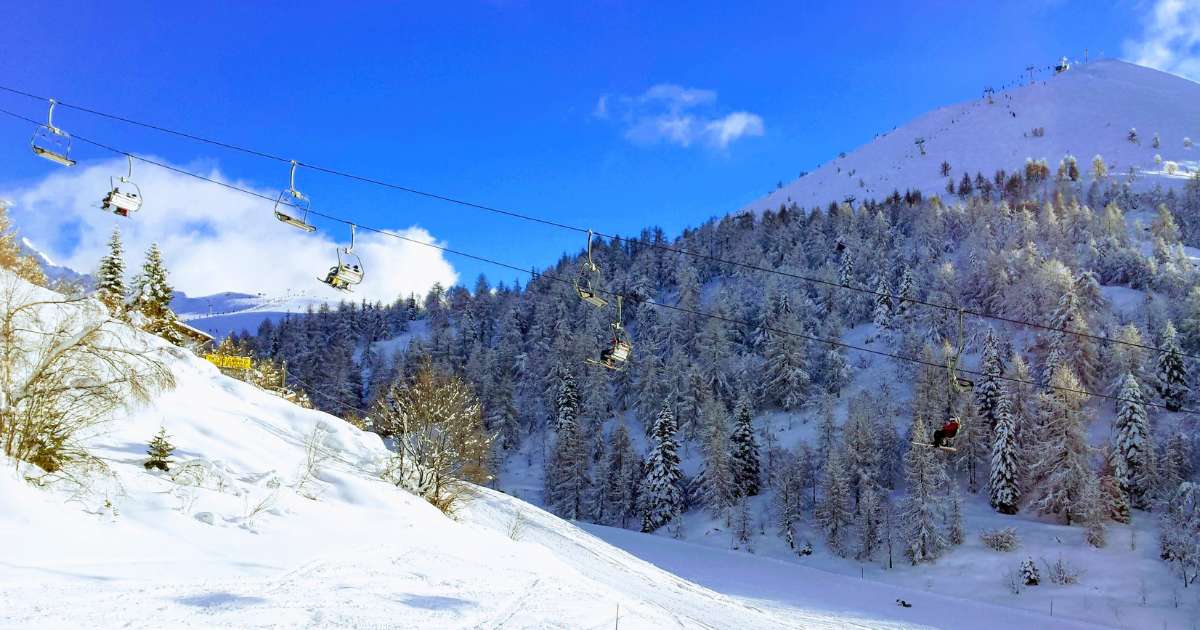 2. Monte Pora – distance from Milano: 1h 45 min
The Monte Pora ski area (1,880 metres) is the highest of the chain between Val Seriana and Val Camonica, in Lombardy.
The ski area is made up of two districts: Monte Pora and Presolana, which offer around 30 km of slopes of medium and low difficulty, perfect for both beginners and experts. In addition, its excellent exposure to the sun and the many slopes it has, make the ski area an excellent place for any activity in the snow.
The fans of cross-country skiing will also find a 7-km-long track, from where they can enjoy an evocative landscape rich in flora and fauna, along with a breathtaking panoramic view of the Lombardy lowland and the nearby Brembana Valley.
The Monte Pora area is certainly one of the closest from Milan, but because of the busy roads, it takes about 1 h 45 min to reach it.
Buy the skipass for Monte Pora with Snowit now.
3. Foppolo – distance from Milan: 1h 55 min
Foppolo is a town in the Brembana Valley, in Lombardy, located at 1615 m and surrounded by the most beautiful and impressive mountains of the Orobic Alps.
The ski resort, part of the Bremboski area, attracts skiers and winter sports enthusiasts from all over the region, making it a popular destination due to its short distance from large cities. In addition, its long ski slopes are certainly suitable for beginners as well as for experienced skiers.
Buy your skipass for Foppolo with Snowit now.
4. Pila – distance from Milan: 2 hours
Pila is a ski resort located in Valle d'Aosta, known for being the largest ski area that can be reached in about 2 hours from the capital of Lombardy, as well as having high quality ski slopes.
Reaching Pila is really easy: just take the A4 to Turin, then follow the A5 to Aosta East, and from there take the very convenient cable car to Pila to reach the slopes immediately.
The ski area is suitable for skiers of all levels and its slopes, from the easiest to the most challenging, are flanked by fir and larch forests: a true immersion in Valle d'Aosta nature on skis, for 70 km of slopes.
If, on the other hand, you want to do something other than skiing, you can also try snowshoeing with your friends or family, because the area offers truly unique itineraries.
You can't wait to go to Pila, can you? Book your snowshoeing trip to Pila with Snowit now.
5. Chiesa in Valmalenco – distance from Milan: 2h 15 min
Chiesa in Valmalenco, a ski resort located in the beautiful valley of Valmalenco, on the side of Valtellina, is another excellent alternative for those leaving from Milan, as it is only a couple of hours from the Lombard capital.
With its 60 km of downhill slopes for skiers and snowboarders of all levels, the ski area is a true paradise for winter sports enthusiasts.
Chiesa Valmalenco is distributed from the altitude of 1000 m of Chiesa, from where you can take the lift up to the 2336 m altitude of Cima Motta. In addition, to reach the heart of the ski resort at 2080 m, you can take a lift, the Snow Eagle, famous for being among the largest in the Alps, which will take you to a true parallel universe, surrounded by a landscape that will leave you speechless.
Don't miss the breathtaking view of Valtellina: buy your skipass for Chiesa in Valmalenco with Snowit now.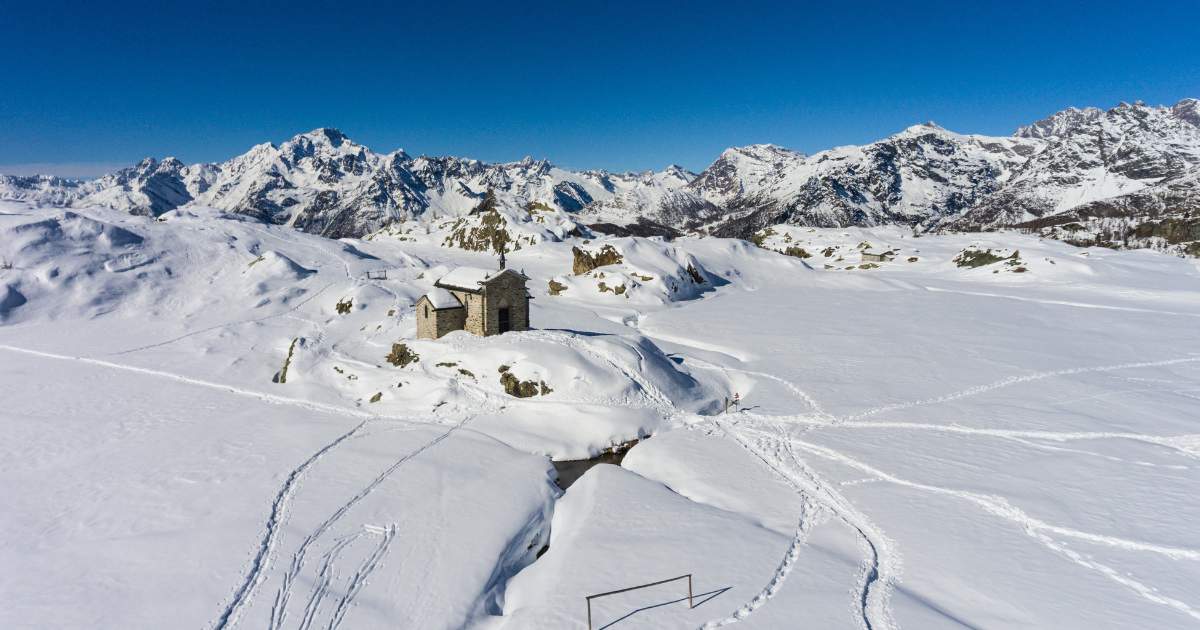 6. Madesimo – distance from Milan: 2h 15 min
Madesimo is located near the Swiss border, in Valle Spluga (in the province of Sondrio), and it is part of the Valchiavenna ski area. The ski area covers around 40 km of slopes and rises to almost 3000 m. What is also fascinating is the variety of the landscape, as the lower slopes are immersed in larch forests, while those higher up are on wide, open, sunny slopes above the forest line.
Madesimo has also a total of 12 km of cross-country skiing tracks and offers numerous sports activities in addition to skiing, such as ice skating and paragliding.
Not everyone knows that this ski area is home to the first underground funicular railway in Italy, a special and fascinating experience for those used to travel suspended on a traditional cable car.
Madesimo is certainly an ideal destination for those seeking adventure, relax and natural beauty in a friendly, welcoming atmosphere. Remember that you don't even have to travel that far, as it is only a little over 2 hours from Milan.
Don't waste any more time, buy your skipass for Madesimo with Snowit now.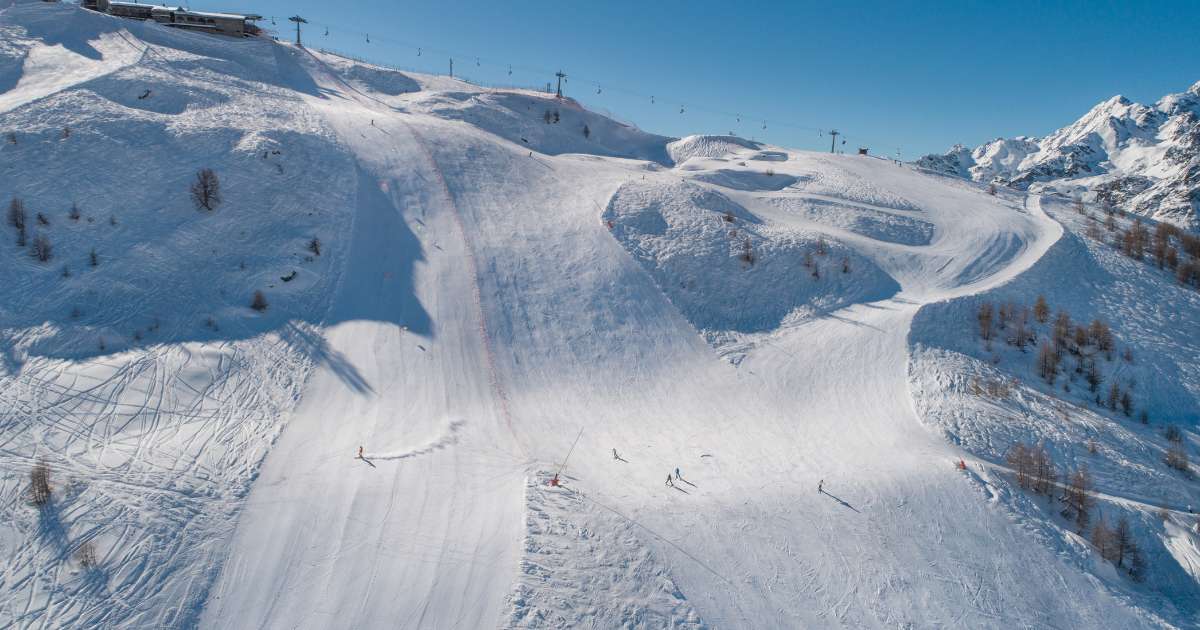 7. Aprica – distance from Milan: 2h 20 min
Aprica is a municipality in the province of Sondrio, on the border with Val Camonica and it is considered one of the most famous ski resorts in Lombardy. The ski resort is just over 2 hours from Milan, but once you arrive in town you are already on the slopes.
The ski resort, divided in 4 zones interconnected (Baradello, Palabione, Magnolta and Campetti), it is suitable for all types of skiers, beginners and experts alike, as it has a wide variety of slopes of alpine skiing of around 50 km, but also 17 km of slopes of Nordic skiing, in Pian di Gembro, Trivigno and Magnolta.
A small curiosity: Aprica is also known because, from 1975 to 1981, the ski resort was the venue for the Alpine Ski World Cup three times.
Buy your skipass for Aprica conveniently online with Snowit.
8. Monterosa Ski (Alagna, Gressoney La Trinitè, Champoluc) – distance from Milan: 2h 30 min
The Monterosa Ski area, located in the heart of the Alps, has 180 km of slopes for skiing in three valleys (Alagna, Gressoney La Trinitè, Champoluc) and eight hours of skiing without ever going down the same slope. Also due to its proximity from Milan (about 2h 30 mins by car), the ski resort is one of the most popular in the area, with slopes suitable for all skill levels.
The three valleys of Alagna, Gressoney La Trinitè and Champoluc are perfectly interconnected, so you can ski through them all, even touching 3000 metres above sea level.
As well as being enchanting in terms of scenery, the ski area is also a popular destination for young people, perfect to finish your ski day with a fun après ski.
Read also: "Champoluc: 10 things to do".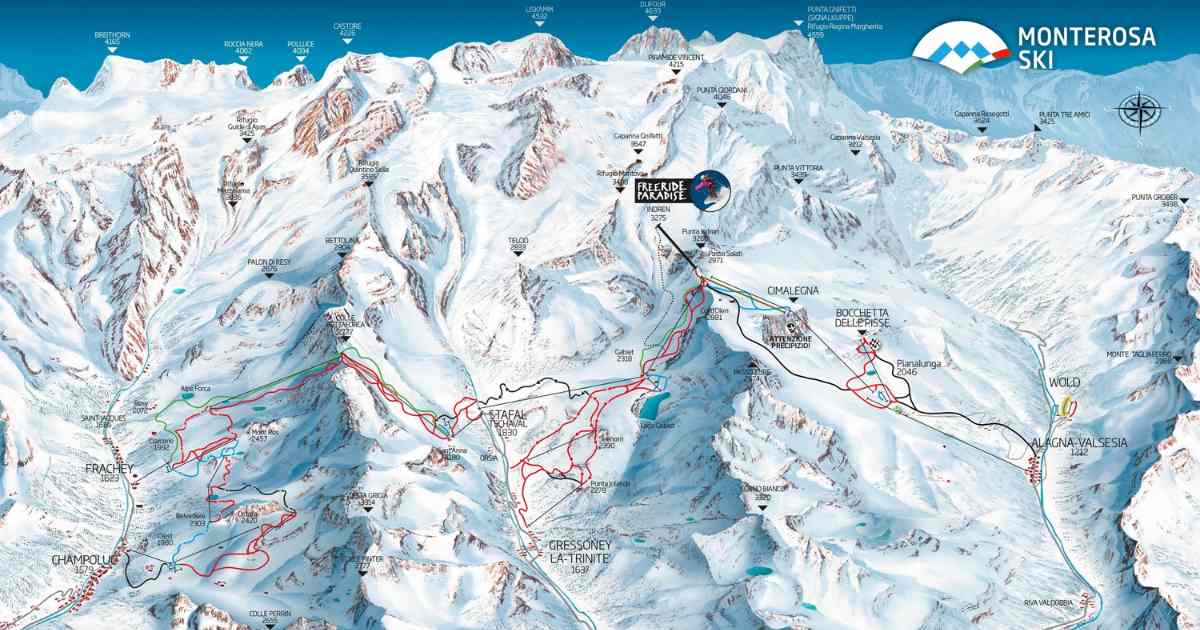 9. Torgnon – distance from Milan: 2h 35 min
Torgnon is a ski resort located in Valle d'Aosta, at an altitude of 1,500 metres in the Valtournenche valley, a side valley of the Aosta Valley region, on the road to Cervinia. The ski area is not very large, as it has just under 20 ski slopes, but these are constantly sun-kissed, making it a pleasant destination for those who want to spend a relaxing day on skis.
Torgnon is part of the wider ski resort of Cervino Ski Paradise, even if it is not connected by skiing with the ski resorts of Cervinia and Valtournenche, so let's not forget that the landscape is also very impressive: the skiable area is, in fact, facing the Cervino Valley and offers some of the most scenic slopes of the entire Aosta Valley.
You can also buy your skipass for Torgnon online with Snowit.
10. Cervinia – distance from Milan: 2h 40min
Breuil-Cervinia, located in the Aosta Valley, is considered one of the most prestigious ski resorts in the world. The area is the highest in the Alps, guarded by the Cervino which is the third highest mountain in Italy, at almost 4500 metres, located between Italy and Switzerland.
The ski area, which includes the Valtournenche valley, is connected to the Zermatt ski resort and allows you to ski on a large number of slopes without ever having to take the skis off your feet.
Breuil-Cervinia is therefore part of the Cervino Ski Paradise, which covers 360 km of ski slopes along three Italian and Swiss valleys, from the 1524 metres of Valtournenche to the 3,883 metres of the Little Cervino.
Remember that 3 types of skipass are available to access the Cervino Ski Paradise ski area:
Skipass Valtournenche
Skipass Cervinia + Valtournenche
Skipass Cervinia + Zermatt
We are perfectly aware that 2h 40 min of distance from Milan may be too much for some, but we assure you that it is worth it.
To avoid wasting too much time when you arrive at your destination, buy your skipass for Cervinia on Snowit in advance.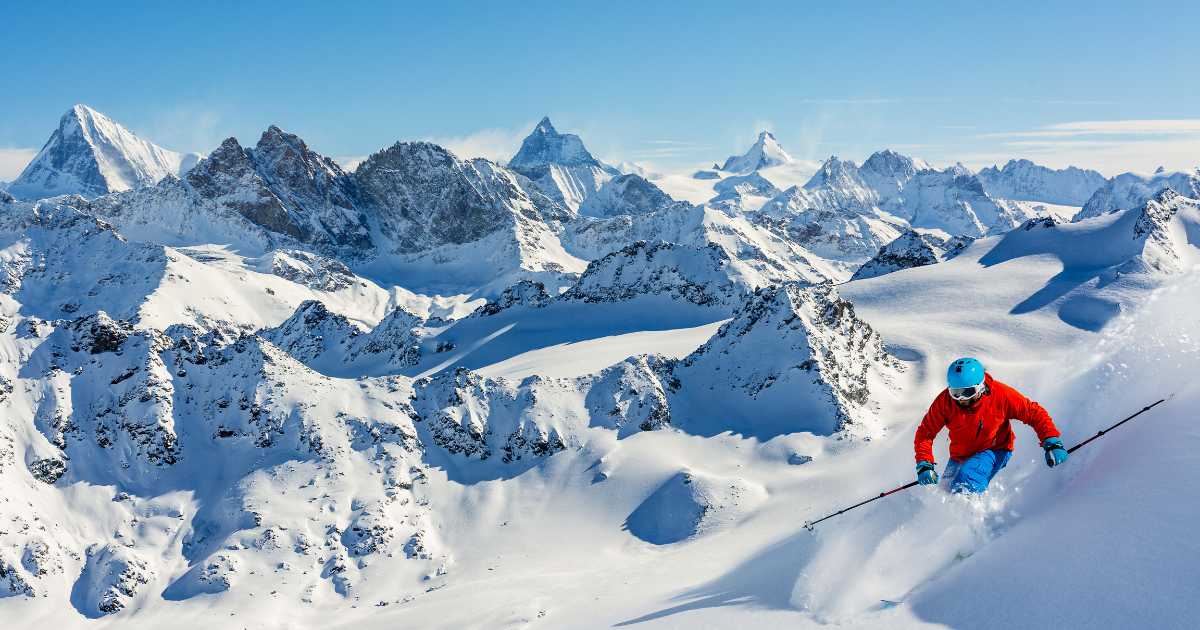 Experience Trenord's snow trains in collaboration with Snowit
But did you know that, from Milan, you can also get directly to the slopes without having to take the car, spending a day skiing in absolute comfort?
The very comfortable snow trains allow you to leave in the morning from Milan central station and return to the Lombard capital in time for dinner. Isn't it incredible?
Snowit offers you special packages which includes the train, the shuttle and the skipass, for those who want to spend one or more days in the Aprica and Chiesa in Valmalenco ski resorts.
With the Snow Trains, you will avoid traffic and parking problems while enjoying the convenience of the train at a very affordable price.
Book now Trenord's snow trains in collaboration with Snowit.
Go skiing with Snowit
Now that you know the best places to ski near Milan, all you have to do is buying your skipass and putting on your skis. What are you waiting for?