Have you ever wondered where and which are the ski resorts near Bergamo? We at Snowit can give you the answer.
Bergamo, as well as Milan, is a city located in a perfect position to organise a day out in the snow, with family or friends, because it is very close to several ski resorts, which are perfectly reachable by your own means of transport in a few hours.
The variety of slopes, the many activities offered, and the breathtaking landscapes make the ski resorts near Bergamo perfect for all snow lovers.
There are various types of ski areas in terms of facilities and variety of slopes, so we have selected a number of mountain resorts near Bergamo that meet everyone's needs.
But let's see exactly which are the skiing facilities near Bergamo:
1. Monte Pora – distance from Bergamo: 1h e 15 mins
The ski resort located on Monte Pora, at an altitude of 1,880 metres, is the highest ski resort in the mountain range between Val Seriana and Val Camonica, in Lombardy.
This ski area is divided into two districts: Monte Pora and Presolana, which offer around 30 km of slopes suitable for medium and inexperienced skiers, but also for the more experienced. The area's sunny location and wide selection of slopes make it the ideal place to practise all kinds of snow sports.
In addition, cross-country skiing enthusiasts can enjoy a 7 km track with a picturesque landscape and a breathtaking panoramic view of the Lombardy plain and the nearby Brembana Valley.
Of the ski facilities near Bergamo, we chose the Monte Pora ski area because the drive time is about 1 hour 15 mins.
For those interested, the Monte Pora skipass can be purchased online with Snowit.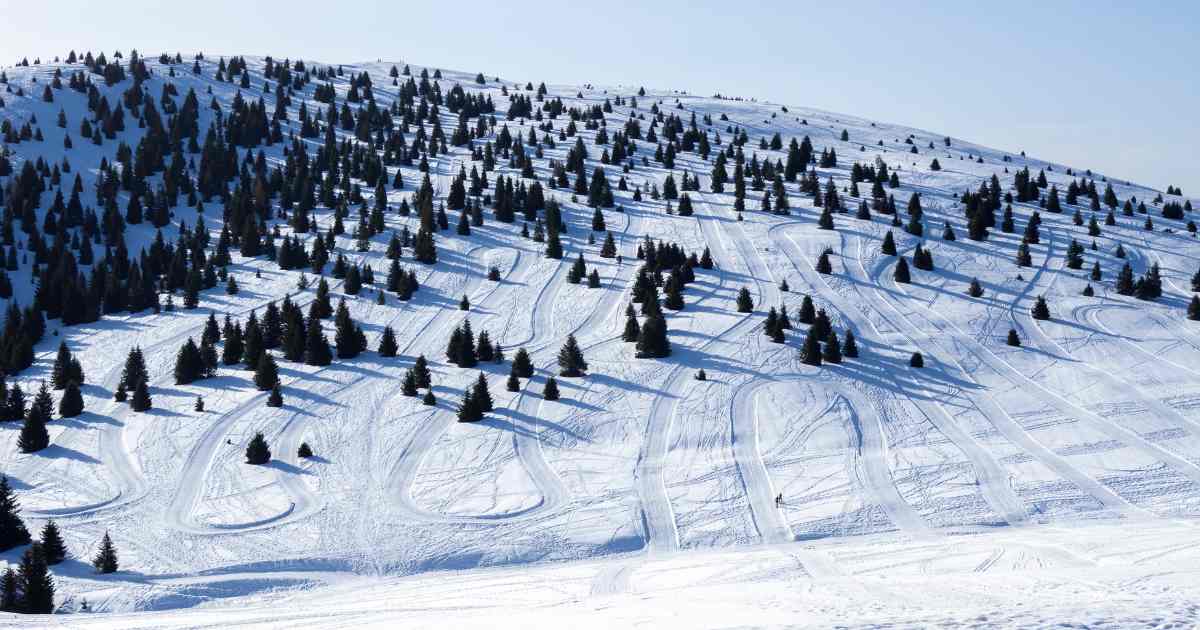 2. Piani di Bobbio – distance from Bergamo: 1h e 15 mins
The Piani di Bobbio ski area is an extremely convenient solution for those who wish to ski near Bergamo in a single day. Situated between the provinces of Lecco and Bergamo, it can be reached in just over an hour from the Lombardy city and has two main entrances: Barzio and Valtorta, both easily reachable by car.
The ski area offers a total of 35 km of ski slopes suitable for all levels of skiers:
In Barzio, there are several blue and red ski slopes, which makes it particularly suitable for those who are new to skiing or for families with children who want to approach the sport.
On the other side, the Valtorta side, characterised by the black slopes of Tre Signori and Cedrino, is more suitable for expert skiers.
To access the ski area, you can purchase the Piani di Bobbio skipass on Snowit.
3. Val Brembana – distance from Bergamo: 1h e 20 mins
The Val Brembana is also very close to Bergamo, only 1h 20 minutes, and offers extraordinarily beautiful landscapes, well-maintained downhill and cross-country skiing trails, and some of the most evocative ski mountaineering itineraries in Lombardy.
The Brembo Ski area offers 50 km of slopes and includes the resorts of Foppolo, Carona and San Simone, all of which are excellent for organising a day in the snow from Bergamo.
Located at an altitude of 1615 metres in the Valle Brembana, in Lombardy, the town of Foppolo is surrounded by the majestic mountains of the Orobic Alps, making it a fascinating destination for nature and sports lovers.
The Foppolo ski resort attracts skiers and winter sports enthusiasts from all over the region, thanks to its strategic location. Its long ski slopes, suitable for beginners and experienced skiers alike, provide an excellent opportunity to have fun and enjoy the beauty of the Alps.
The Foppolo skipass is available on Snowit.
4. Aprica – distance from Bergamo: 1h e 50 mins
In our small guide to ski facilities near Bergamo, we can certainly also find Aprica, a municipality located in the province of Sondrio.
Aprica is one of the most famous ski resorts in Lombardy and, after a little less than two hours from Bergamo by car, once you arrive in the village, you will already be on the ski slopes.
The Aprica ski resort is divided into four interconnected areas (Baradello, Palabione, Magnolta and Campetti) and offers a wide choice of alpine ski slopes, with a total length of about 50 km, suitable for skiers of all levels, from beginners to experts. In addition, there are also 17 km of Nordic ski slopes in Pian di Gembro, Trivigno and Magnolta.
Another note of merit for Aprica is the Alpine Skiing World Cup, of which the resort was the venue three times, from 1975 to 1981.
Buy your Aprica skipass conveniently and quickly on Snowit.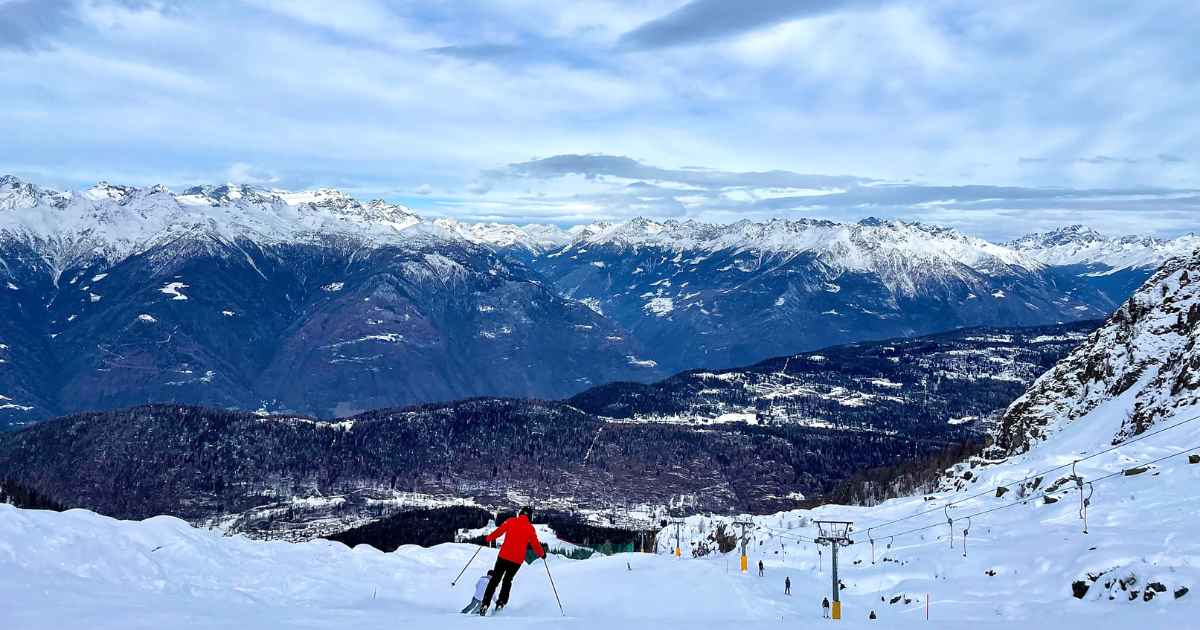 5. Ponte di legno – distance from Bergamo: 2h e 5 mins
Ponte di Legno is located at an altitude of 1,200 metres in Val Camonica, on the border between Lombardy and Trentino, with an area that has 30 ski lifts, reaching the 3,000 metres of the Presena Glacier.
The area also has 100 km of ski slopes of all difficulties in the pristine nature of the Stelvio National Park and the Adamello Regional Park.
It is a mountain resort about 2 hours from Bergamo, making it a common destination for all skiers in the area, but also for hikers and tourists from all over the world.
A small curiosity about Ponte di Legno: this resort has one of the longest slopes in Europe, which, after eleven kilometres, leads to the village of Ponte di Legno.
This ski area is therefore perfect for those who want to go day skiing and at the same time not give up a wide variety of slopes, which are well maintained and offer beautiful panoramic views.
Buy your skipass for Ponte di Legno now.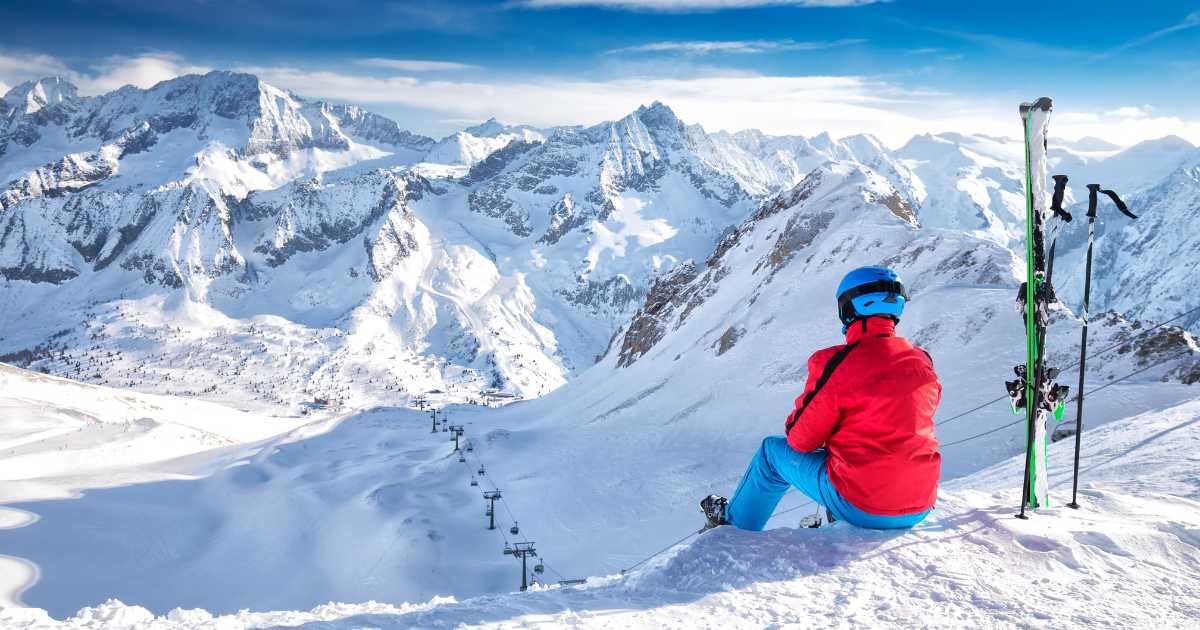 6. Madesimo – distance from Bergamo: 2h e 10 mins
Madesimo is a ski resort located in Valle Spluga, in the province of Sondrio, near the Swiss border.
It is part of the Valchiavenna Ski Area and offers around 40 km of ski slopes extending up to almost 3000 m altitude. The interesting thing about Madesimo is the diversity of the landscape: the lower slopes wind through larch forests, while the higher ones are on open, sunny slopes.
The area also offers 12 km of cross-country skiing trails and many other sports activities, including ice skating and para-gliding. This location is also famous for having the first underground funicular railway in Italy, a unique experience for cable car enthusiasts.
Madesimo is therefore an ideal destination for those seeking adventure, relax and natural beauty in a friendly, welcoming atmosphere. It is easily reachable from Bergamo in just over 2 hours, so don't waste any more time and buy your Madesimo skipass now on Snowit.
7. Chiesa in Valmalenco – distance from Bergamo: 2h e 15 mins
Chiesa in Valmalenco is a ski resort located in the beautiful Valmalenco, a side valley of Valtellina, and it is an excellent option for those travelling from Bergamo, being only a little more than a couple of hours away from the Lombard city.
With its 60 km of downhill slopes suitable for skiers and snowboarders of all levels, the ski area is a true paradise for winter sports enthusiasts.
The town of Chiesa Valmalenco stretches from the 1000 m altitude of Chiesa, where you take the cable car up to Cima Motta at 2336 m. In addition, to reach the heart of the ski resort at 2080 m, one can take the Snow Eagle, one of the largest cable cars in the Alps, which offers a spectacular view of the valley.
After discovering that the ski resorts near Bergamo include this fantastic location, don't miss the opportunity to enjoy the immense beauty of Valtellina.
Buy your skipass for Chiesa in Valmalenco now with Snowit.
But did you know that in Chiesa in Valmalenco there is also one of the most difficult ski slopes in Italy? It is called Thoeni, with a gradient of 70%, marked by a yellow sign indicating it as a track suitable only for expert skiers.
If you are interested, read more in the article: "The 5 most difficult ski slopes in Italy".
Go skiing with Snowit
Now that you know which are the best places to ski near Bergamo, all you have to do is buy your skipass and put on your skis. What are you waiting for?