Have you ever wondered what are the things to do in Ponte di Legno Tonale?
Ponte di Legno is a mountain resort on the border between Lombardy and Trentino, a destination for many skiers, hikers and tourists from all over the world, as it is one of the most important ski resorts in Val Camonica.
Let's discover together the 8 things to do in Ponte di Legno Tonale that will make your holiday absolutely unforgettable.
1. Skiing in Ponte di Legno Tonale
The Ponte di Legno Tonale ski area covers 100 km of ski slopes of all difficulties in the pristine nature of the Stelvio National Park and the Adamello Regional Park, with a total of about 40 slopes and 30 ski lifts.
You can reach an altitude of about 3,000 metres at the Presena Glacier, where you can ski until late spring. It is precisely from here that one of the longest ski slopes in Europe starts, leading, after eleven kilometres, to the town of Ponte di Legno. Unbelievable, isn't it?
After knowing this little fact about the Ponte di Legno ski resort, if you are also interested in knowing which are the most difficult ski slopes in Italy, read more in the article:
"The 5 most difficult ski slopes in Italy".
2. Ski mountaineering day
Ski mountaineering is a practice that now fascinates many people, being extraordinarily beautiful not only for the variety of environments traversed, but also for the peaks you can reach.
Ponte di Legno Tonale is a paradise for ski mountaineers, but it also requires the necessary technical knowledge to practice it safely in the environment.
In this ski resort, you can enjoy a carefree day in the company of a mountain guide who will teach you the techniques of the sport.
We at Snowit recommend you a detailed itinerary, which you can perform with a mountain guide who will accompany you along the entire route. The itinerary will take place as follows:
Recommended ski touring route in Ponte di Legno Tonale
The itinerary begins by climbing up to the passo Presena at 2997 m, via the ski lifts, and then descending on the opposite side to the Mandrone basin. From here, you will have access to the Adamello Glacier, and then descend along the Val Narcanello, through one of the passes leading to the Pisgana Glacier. Continuing your descent, you will reach Ponte di Legno, and then conclude your itinerary by ascending to Passo del Tonale, via the ski lift.
If this itinerary in Ponte di Legno Tonale has intrigued you, book your ski touring day online now and find out more about what to do in the mountains with Snowit.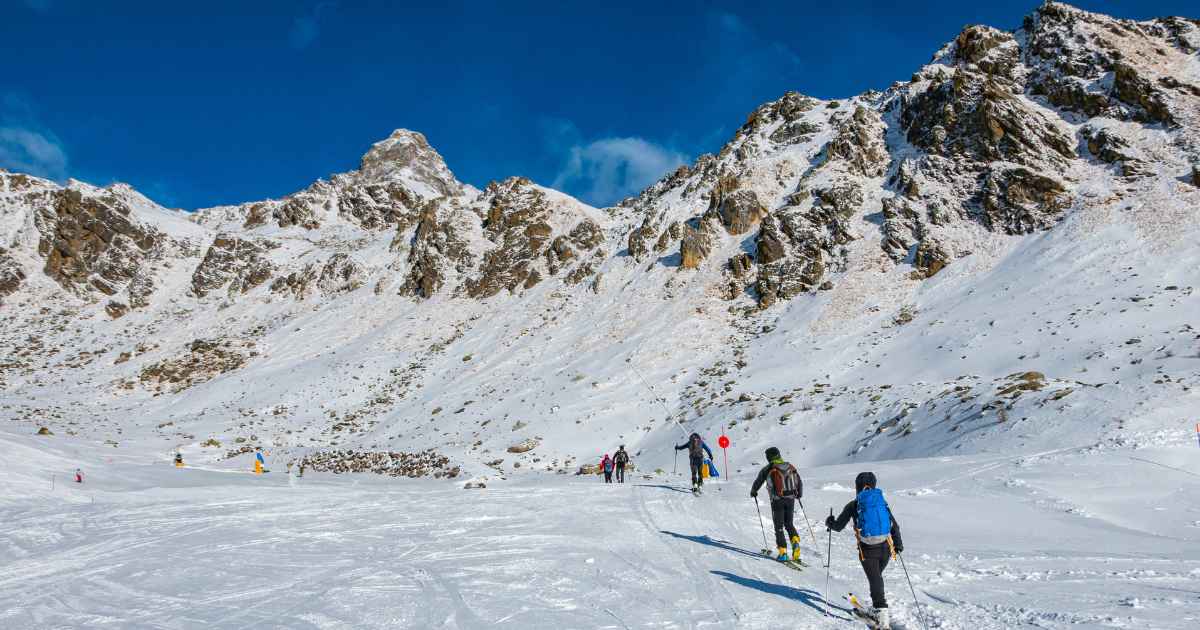 3. Freeride experience in Ponte di Legno Tonale
Have you ever tried a freeride experience? If you haven't had this luck yet, there is no better opportunity to experience it in Ponte di Legno Tonale.
We are sure that, in this ski resort, the most fun is to glide over the pristine snow on a slope, playing with technique and the power of nature, feeling free and light.
What are you waiting for? Get as far away from the slopes as possible and immerse yourself in the wilderness of the winter mountains in the Adamello Ski area, where there are numerous itineraries that will leave you speechless.
From the Presena Glacier, in fact, many off-piste routes originate that will allow you to float on fresh snow among the snow-covered forests, slopes and valleys of the Alps, including itineraries along the majestic neighbouring mountains with access from Mandrone, Cima Venezia and Pisgana.
This experience will certainly enable you to improve your technique, without forgetting and neglecting the issue of safety.
If you book everything online with Snowit, you will be accompanied by expert guides who will introduce you to this new world, teaching you where and when to go, but also how to behave in the event of difficulties, even handing over rescue material in the event of an avalanche.
Don't miss this unique opportunity, book your freeride experience with Snowit.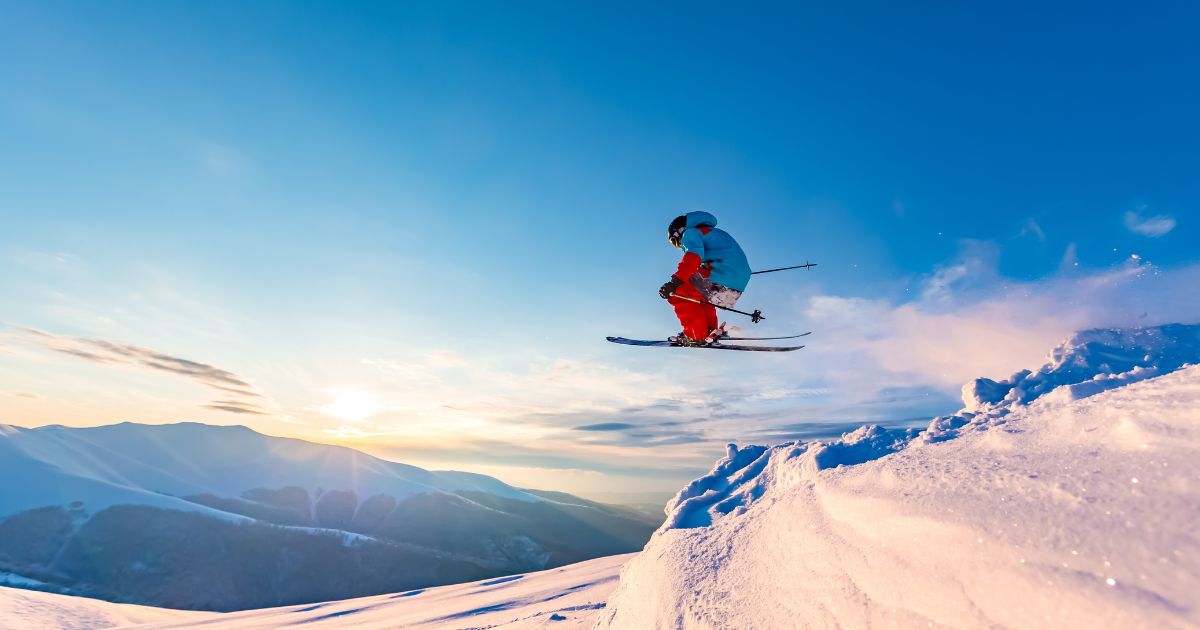 4. Snowshoeing in Ponte di Legno Tonale
If skiing is not your thing, don't worry, because there are plenty of other outdoor activities that will make you experience the winter mountains in a unique and unforgettable way. A perfect example of this is an adventurous snowshoe hike through the forests, crossing the picturesque landscapes of Trentino.
Snowshoes in fact have a long tradition in Trentino, as they have always made it possible to move easily on snow, preventing sinking and extending summer hiking into the winter months.
Taking part in a snowshoe hike in the mountains is certainly an opportunity to immerse in nature, enjoying breathtaking landscapes, in the company of a mountain guide who will check the weather conditions and the snowpack suitable for the activity.
We at Snowit are certain that, not only will you have the opportunity to get to know the most beautiful itineraries in the area, but you will also realise that walking through the snow-covered forests, in the typical silence of winter and unspoilt nature, will be an unforgettable experience.
Book your snowshoeing trip to Ponte di Legno Tonale now with Snowit.
5. Après ski in Ponte di Legno Tonale
After a tiring day in the snow, after skiing, after snowshoeing or simply after doing a simple outdoor activity, what could be better than relaxing and having fun with friends or family?
Après ski is a perfect opportunity to do so. Whether you want to drink a classic spritz, a bombardino or a grappa, and whether you are already among the locals in the village or still at the base of the ski slopes, après ski is a must to end the day in the snow.
In the Ponte di Legno Tonale ski resort, there are mainly two places to enjoy an après ski:
The Petit Pierre Refuge, located between the peaks of Corno d'Aola and Salimmo
Redival, located at the start of the Valena ski slope in the centre of Passo Tonale
If you want to know more about these two venues or about the best après-skis in Italy, read also:
"Best après ski in Italy: the 8 locations to party".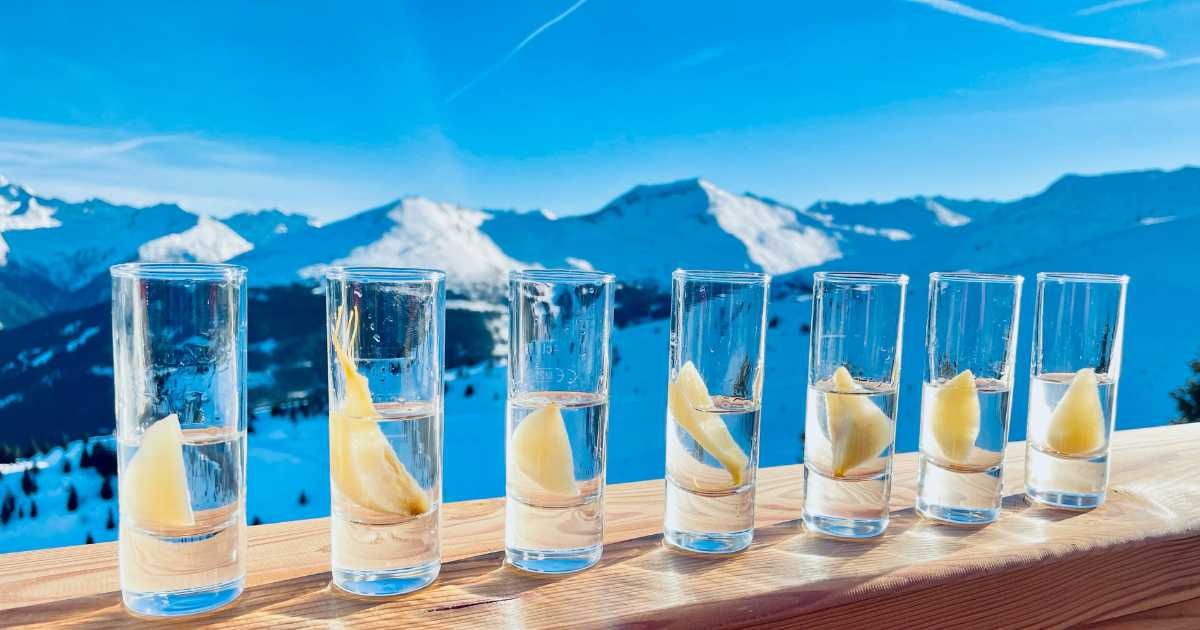 6. Ice Music Festival
Have you ever tried to attend a concert in a theatre made entirely of ice? If your answer is no, what are you waiting for?
Imagine a theatre made of ice located at an altitude of 2600 metres and with the capacity to seat 200 spectators. In the heart of the Presena glacier, at Passo del Tonale, reached by the Paradiso cable car, all this can become reality.
At the ice music festival, there is a music season that will surprise you with a unique experience, so wear your hat, scarf and gloves because it will be cold.
The theatre and instruments are in fact made entirely of ice and the musicians will play until the instruments melt, entertaining the audience with their melody.
If you are in the mood for this unique and unforgettable experience, book your evening at the ice music festival through Snowit now.
7. Discovering the local cuisine
In Ponte di Legno Tonale there are many restaurants and places where you can enjoy local cuisine, with cheese, meat and local products.
The gastronomy of Ponte di Legno and Val Camonica in general is very rich and varied, characterised by the use of high quality products. Typical local dishes include polenta taragna, carne salada and pizzoccheri.
In addition, the Ponte di Legno area is also famous for its wines, such as Rosso di Valtellina and Sforzato di Valtellina, made from Nebbiolo grapes grown high in the mountains.
In general, the cuisine of this mountain resort is characterised by the use of simple but high quality ingredients, reflecting the tradition and culture of the area.
8. Destination Paradise
Panorama 3000 Glacier is one of the main tourist attractions in the Ponte di Legno-Tonale ski area, offering breathtaking landscapes of the Adamello and Orobian Alps mountain ranges.
Made entirely of glass and steel, it is a new ski bar located at an altitude of 3,000 metres, at the arrival point of the Presena panoramic cable car, and therefore accessible either on foot or by ski or snowboard.
In winter, Panorama 3000 Glacier is the ideal starting point for skiers and snowboarders wishing to explore the vast Ponte di Legno-Tonale ski area, which offers around 100 km of slopes for all skill levels.
In summer, on the other hand, the area is ideal for hiking and mountain biking along the numerous hiking trails.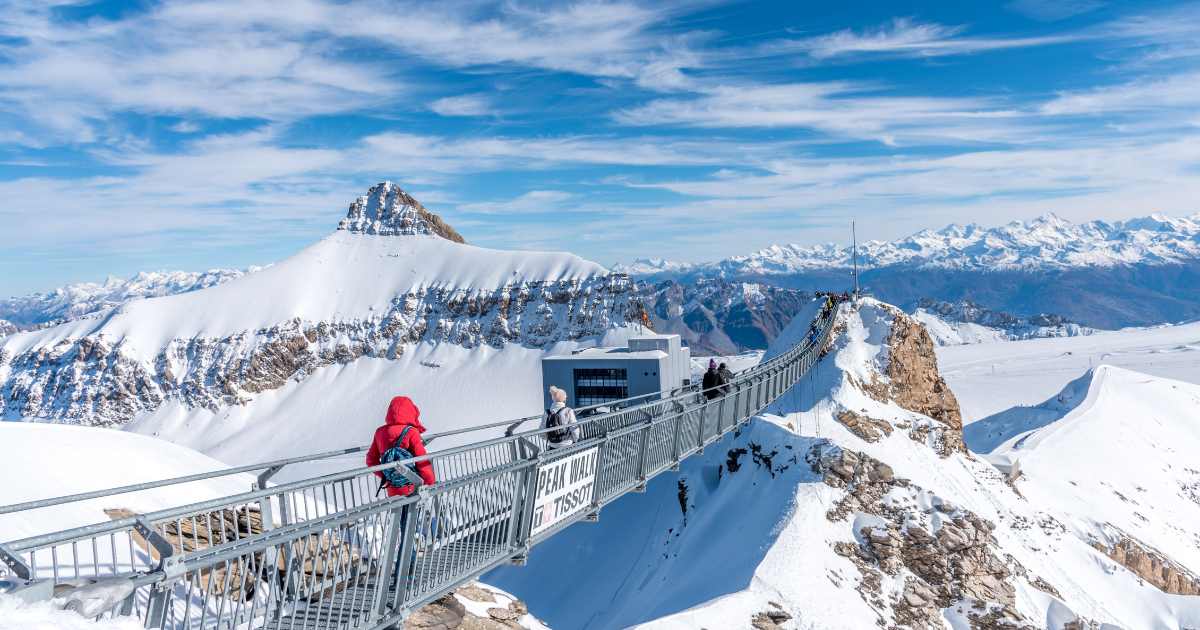 In summary, Panorama 3000 Glacier is one of the most unmissable attractions in Ponte di Legno Tonale, as it offers a spectacular view of the Alpine mountain range, but also numerous activities in both winter and summer.