When it comes to ski equipment, sometimes the choice of boots almost takes a back seat; as if they can't really make a difference in on-piste performance.
Spoiler: not so, in fact sometimes it is the ski boots that make the difference. That is why it is very important to choose the right model for your physicality, your needs and your level of track experience.
If you don't want to be caught unprepared when buying your first ski boots or if you want to play it safe when buying your next pair of boots, read on and discover all the secrets to choosing the perfect ones for you.
Guide to ski boot sizes and measurements
Often the mistake people make when searching for the perfect pair of ski boots is thinking that they should only be comfortable and the right size for their feet. Unfortunately, favouring comfort often means disadvantaging performance.
This is because sometimes it is the ski boots that make all the difference when skiing. Foot pain, like low boot sensitivity, can really compromise a successful day in the snow.
So what are the parameters to consider when buying your own pair of ski boots?
1. Length of ski boots
The most common mistake when choosing ski boots lies precisely in the choice of length, as also reported by Salomon, almost 75% of skiers mistakenly buy boots 2 sizes larger.
This is because the boot must fit and wrap around the foot perfectly in order to be truly performant.
Usually boot sizes feature the Mondopoint system, which means doing some additional thinking before purchasing.
It's actually very simple, you just have to look at the Mondopoint size chart and see how it matches your usual foot size, we also recommend that you consider at least 1 centimetre more for the socks you will have to wear.
However, it is not so easy to choose the perfect ski boot; in fact, a few extra precautions need to be taken when trying on boots to make sure we buy the perfect ones for us.
First of all, our advice is to bring along the socks that you are going to use during your skiing in the snow.
So the real boot testing begins: a little tip is to close your boots about halfway through the adjustment. If you could go even further and tighten the fastening, it means that this is not the right pair for you.
And it still doesn't suit you if you stand up straight and don't touch the tip of the boot.
If all the previous cases have been passed, it is time to do the flex test: push on the boot, even leaning against the wall to force the movement slightly, if in this case your foot still touches the toe of the boot, you will have to think about choosing a size up.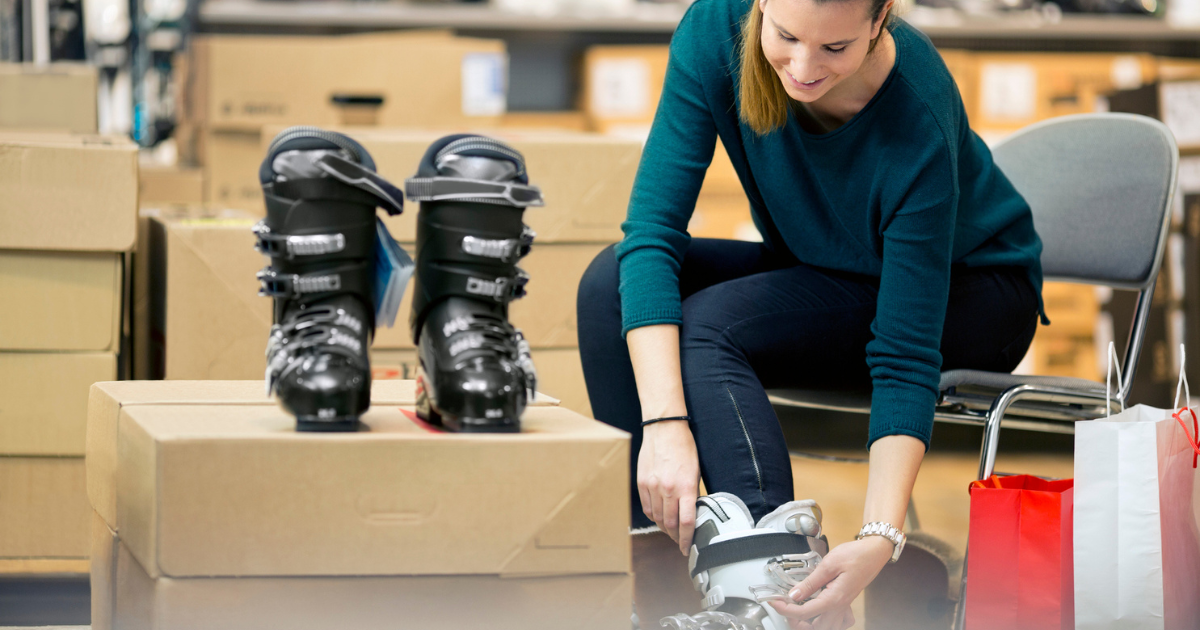 2. Width of ski boots
Another key parameter to consider when choosing your ski boots is width, a parameter that falls into the broader category of boot volume.
It is not only a matter of measuring the widest point of the foot, in the forefoot area, but at the same time assessing to what degree of precision on the ski slope, we are aiming.
In fact, it is possible to divide boots by width into 3 macro-categories:
Narrow – 96 to 98 mm: ideal for skiers with a narrow sole and those who opt for precision
Standard or intermediate – from 98 to 102 mm: ideal for those who choose both comfort and performance
Wide: 102 to 104 mm: ideal for those who tend to have a wider sole.
Our advice is never to choose boots that are wide, unless it is the case of feet with a significant width, because otherwise they will not be able to provide the right support for the foot, thus making it more difficult to manoeuvre the skis on the piste.
Difference between men's and women's boots
To every foot its own ski boot!
This is not only because each build and each person is unique, but also because a woman's build differs significantly from a man's, and specifically differs in the shape of the calves and feet.
To ensure maximum performance and perfect feel on the snow, ski boots differ in the men's and women's categories.
Starting with the difference in the conformation of the calf, the cuff of the women's boot is designed to be lower and widen towards the top, in order to adapt posteriorly to the shape of the female calf.
While the sole of the foot differs from that of men, being generally narrower.
Another important detail concerns the temperature maintained by the boot. This is because women tend to feel the cold more, so the boot liner is designed to maintain a slightly higher temperature than men's boots.
How to choose ski boots?
There really is something for every taste in ski boots, but also for every budget. Furthermore, there are many more or less famous brands to entrust your days in the snow.
But once we have chosen the right size for us, what are the important features of ski boots that make them really perform for us?
The Flex of Ski Boots
To make sure you find the boot that really suits your needs, you cannot overlook the flex.
Flex refers to the stiffness of the boot, which is actually a real index measured by numbers ranging from 50 to 160, and this parameter depends on two main factors: your build and how much of a skier you are.
This is because for those with a sturdier build or who are very adept at skiing, a higher stiffness is recommended to ensure effective boot performance on the slopes.
Again, we can consider 3 macro-categories that can guide us in choosing the right flex boot:
A flex of 60 to 90 for male beginners and 60 to 70 for women
A flex of 90 to 100 for intermediate men and 70 to 80 for women
A flex of 100 and above for experienced men 80 and above for women
Although we remind you that this index is not standard, this table can still be a good guideline to understand where to direct your choice.
We also remind you that you can adjust the stiffness of the boots a little by loosening the upper strap, making them more flexible.
There are therefore several factors to consider when choosing your next pair of ski boots. Surely the first of all is to be able to recognise one's own level in this discipline and then to be very objective with the choice of measurements, perhaps taking extra time for more accurate research during the final choice.
Testing Snow Equipment with Pool Sci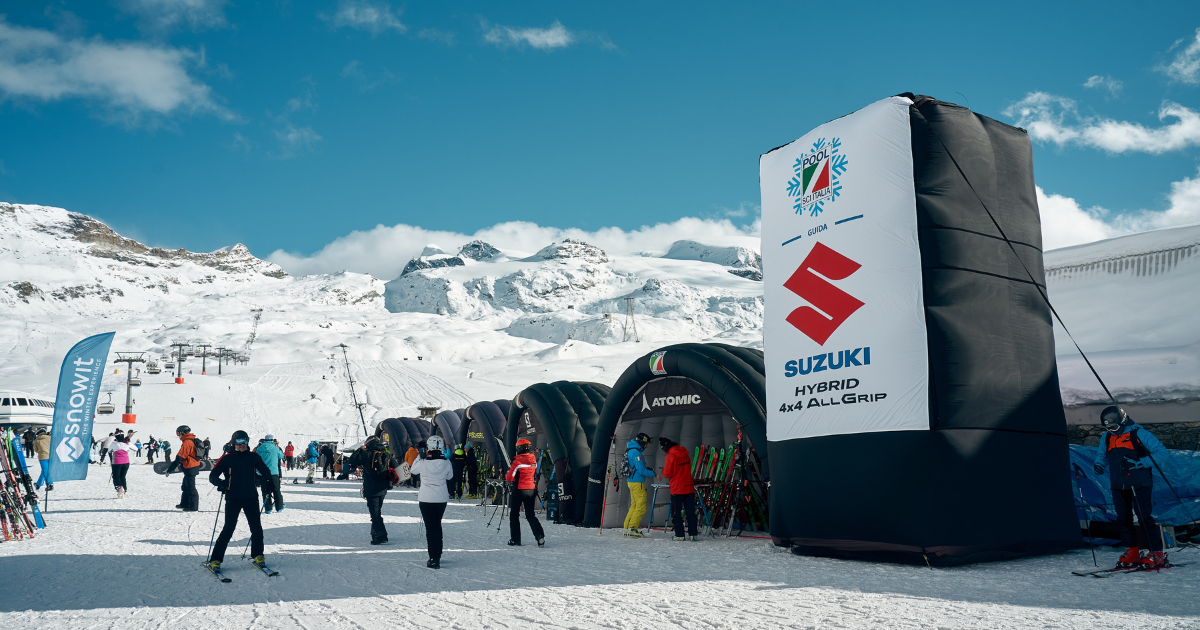 But did you know that if you are undecided between different brands and types of boots or want to experiment with new equipment without renting it, thanks to Pool Sci Italia you can do so?
But what is Pool Sci Italia? Pool Sci Italia is an Italian consortium of companies manufacturing skis, bindings, boots, poles, helmets and more, which throughout the winter season organises a travelling event (the Prove Libere Tour) among many Italian locations where you can test all state-of-the-art equipment from the best manufacturers in order to completely free!
In addition, specialised skimen will be able to help you choose from the many options of skis and boots, and you can change your equipment and try out new ones every hour.
The Free Trial Tour event is a great time to find out what new brands are on offer and test them in peace, directly on the snow!
Bootfitting and thermoforming
If, on the other hand, you have already bought your pair of ski boots but are in pain every time you wear them on the piste, we have the perfect solution for you. What's right for you is called bootfitting!
Bootfitting refers to a series of interventions on ski boots by expert skimans who are able to customise the fit and thus make the ski boots you have already purchased more comfortable.
The hand of an expert will be able to mould, with a series of specific techniques, the fit of your boot, making it more comfortable but at the same time maintaining enough grip and rigidity to ensure maximum boot performance.
But if you ask yourself how it is possible to modify an entire ski boot to make it into a glove, the answer is thermoforming. This special technique allows the boot shell to be skilfully machined, without affecting its quality.
Our advice is to rely on experts in the field, to be sure of a result tailored to your needs.
How to widen ski boots to make them comfortable
If the problem of pain with your boots is limited to the first few ski runs, and then loosens up, we can suggest some do-it-yourself tricks to soften your boots before the first use.
The very first tip is to warm up the inside, then insert the foot and slightly mould the boot. Or insert a bag full of water into the boot and then leave it in the freezer, so that the water, as it freezes, expands and thus widens the ski boot shake.
Our advice, however, is to use the product over and over again, so that over time the boot will adapt to the foot and stop creating discomfort and pain.
Used ski boots: advantages and disadvantages
When it comes to used sports equipment there are always two issues that clash: the advantageous price of second-hand equipment and the disadvantage of not knowing how the equipment was treated previously.
The cost of a good pair of ski boots is certainly not affordable for everyone, so second-hand can be the compromise between price and quality, especially if they are your first ski boots. It is very likely that you will then change by improving your level and understanding your skiing needs.
So go for the second-hand purchase, but make sure your boots are in good condition to avoid possible injuries.
The 3 best ski boots by price and quality
But which are, in our opinion, the best boots that you can be on the safe side, worth it for both quality and price? For us, when it comes to quality and price, there is only one thought: Rossignol.
Here are, according to us at Snowit, the 3 best Rossignol ski boots:
1. Allmountain ski boots – Alltrack 110
The allmountain – alltrack 110 ski boots, priced at €350, are the perfect companions for discovering every corner of the mountain, whether in the powder or on the ski slopes. In fact, these boots are able to both reduce weight and transmit all the power needed on the piste.
The inner liner provides warmth and its 102 mm last is the right compromise between comfort and performance. In addition, the Hike mode makes it easy to switch to mountaineering.
2. On-piste ski boots speed 80
The speed 80 piste ski boots, priced at 250€, are perfect for those who like to carve all day on the piste. Power and precision are customisable and the 104 mm internal shape adapts to different foot shapes.
The hull guarantees optimum power transmission, optimising skiing. And finally, the simple design allows the boot to be slipped on with ease.
3. Alltrack 80 w allmountain ski boots
The Alltrack 80 w allmountain ski boots, priced at €250, are perfect for those who want to experiment both on and off the piste. The 102 mm inner last offers a comfortable fit, which is also guaranteed by the cuff.
The hull reduces weight and offers full power transmission on the slopes and beyond. The liner has Thinsulate™ padding for extra warmth and is fully customisable for a perfect fit.
Ski boot bag and sack
Once you have chosen your ski boots, the time comes to choose where to store them, because it is very important to take care of them, especially when they are not in use.
Practical and convenient, the ski boot bag can be taken anywhere and always ensures that ski boots while travelling do not roll around in the boot of the car or bus, causing them to break. During the summer months, it protects the boots from deterioration, especially of the plastic shell, which is very sensitive to deformation due to sun and heat.
And for those who just can't give up the ultimate in comfort and warmth, you can opt for the thermal ski boot bag, so that when you slip on your pair of boots, you will feel a warm, very special pampering before you plunge into the freezing snow.
Purchase vs rental: advantages and disadvantages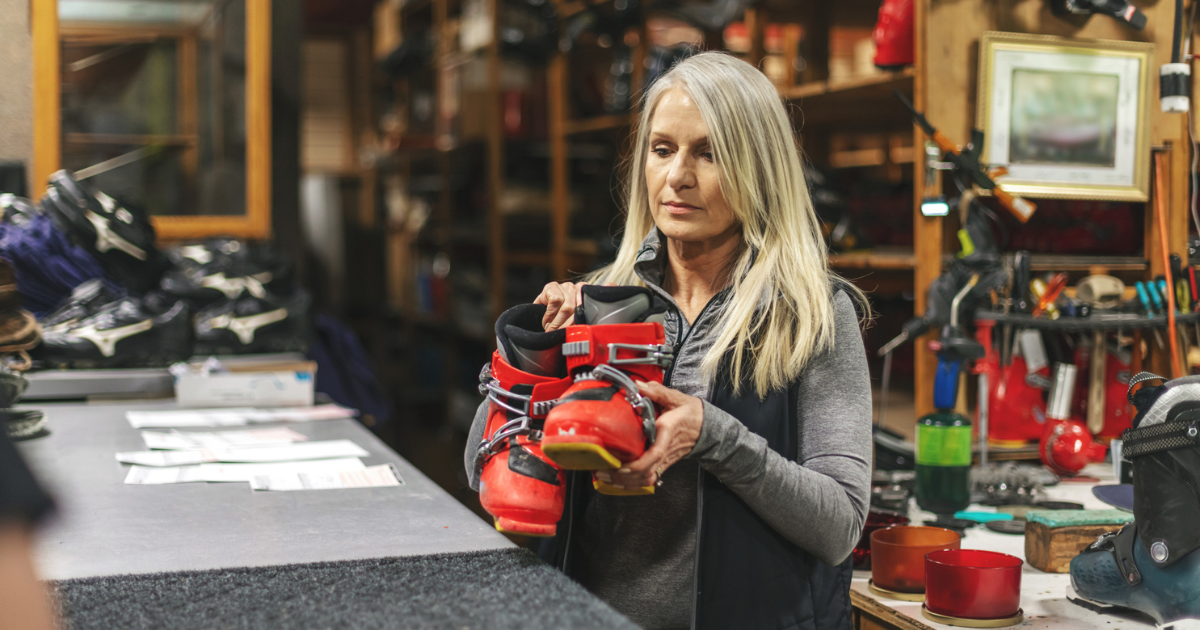 There are several reasons to favour purchase over rental and vice versa, because both choices have advantages and disadvantages.
1. Buying ski boots
The advantage of the purchase is to have completely new, undamaged equipment that has never been damaged or deformed by other people
The disadvantage is definitely the price and the likelihood (if you have not followed our guide carefully) of buying a product that is not suitable for your needs, making a substantial mistake in your purchase, or being fully responsible for it if your ski boots break.
2. Ski boot rent
The advantage of renting is not having to buy a possibly unsuitable product at a high price, but above all the possibility of trying out different kinds and brands of boots. And even if something should happen to the boots, it will simply be repaid by your insurance on the rented equipment.
The disadvantage, however, is certainly that you have to get used to different equipment every time you go skiing, and thus never fully master the sensitivity and responsiveness of the equipment. And of course, renting implies using boots that have gradually adapted to the feet of more and more people.
There is no right or wrong choice, the discriminating factor is definitely the price, i.e. it is worth buying if you think skiing is your sport that you will practise several times a year and for several years, if not, renting is a viable alternative solution.
Always rent your customised ski boots: hire online at Snowit
Don't have your ski boots? Rent them conveniently on the Snowit app. In just a few clicks you select the rental centre and all your equipment, saving up to 15%.
Skip the queue at the cash desk and pick up your ski equipment now and hit the slopes!