What are the best après skis in Italy?
Après ski, literally 'after skiing', is that moment of the day that, although they will never admit it, all skiers wait for.
After a day in the snow, what could be better than relaxing and having fun with friends or family? Après ski is a perfect opportunity to do so. Whether you want a classic bombardino, a grappa or a drink, and whether you are still at the base of the slopes or already in the village bars, après ski is a must to end the day in the snow, listening to music and having fun.
Well, if après ski is an essential part of your winter holiday for you, you cannot miss a trip to these resorts:
1. Bardonecchia: Après Ski at Harald's
In Bardonecchia, besides being delighted by unique local dishes, there is certainly no shortage of entertainment.
Harald's is a fixed point, right at the base of the Colomion lifts. The chalet, with its mountain charm, has a terrace that is always livened up by a fantastic DJ set and delights its guests with refreshing cocktails and the breathtaking landscape of the Alps.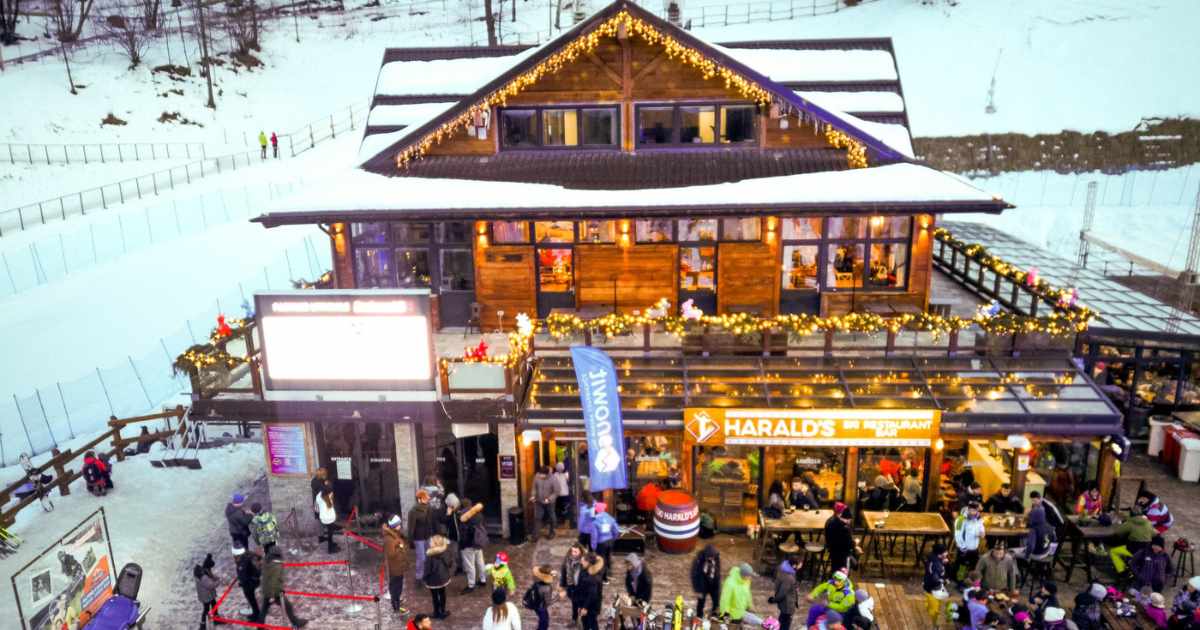 2. Bormio: Bewhite and Ciuk
Whoever says Bormio and après ski says Bewhite, the club at the base of the lift that leads directly to the slopes of Bormio 2000, where you can still enter with your boots on.
The other venue is Ciuk (with its dedicated hashtag: #behappybeciuk), a must for a break at altitude, directly on the ski slopes. Trust us, it is ideal for experiencing unique emotions between fun and relax.
For the tireless people who want to continue the evening until late, on the other hand, the after après ski at the Shangri La cannot to be missed.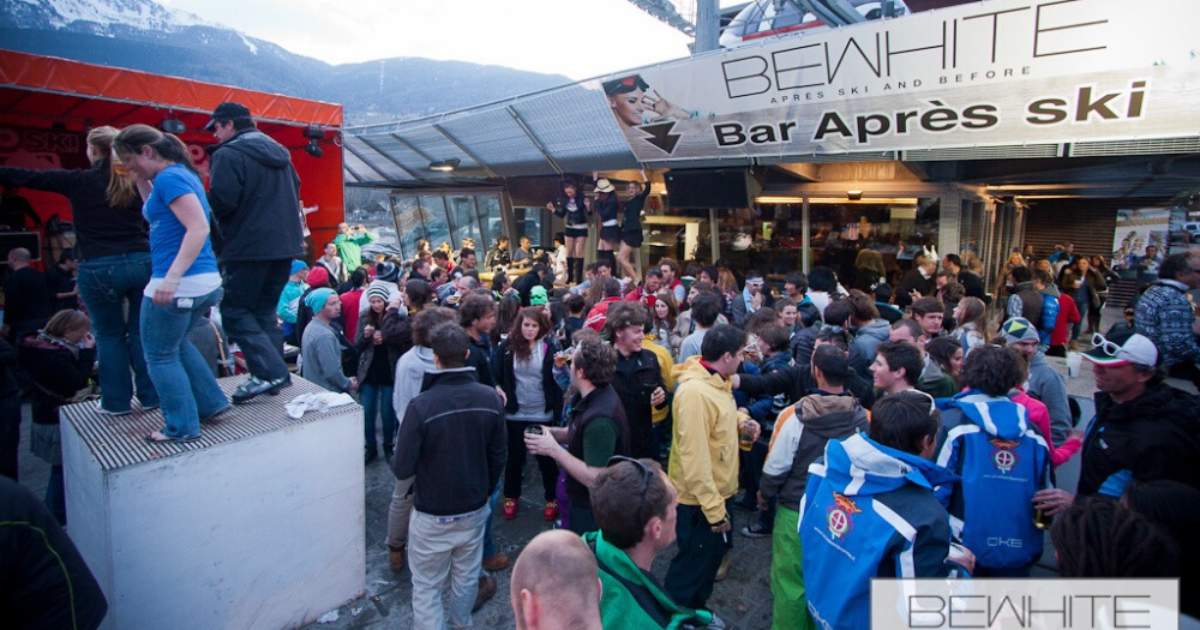 3. Cortina d'Ampezzo: Après Ski at Chalet Tofane
Cortina d'Ampezzo is a famous tourist resort located in the Dolomites and known as the 'Queen of the Dolomites'. There is no lack of a stylish and entertaining nightlife here either.
Chalet Tofane certainly hosts one of the best après skis in the area, from lunchtime until sunset, with international DJ sets and live bands taking turns to entertain the high-altitude crowd. It can be reached either by car, on foot or on skis. For skiers: remember that you have to return to the valley, so don't exaggerate with the drinks.
If, on the other hand, you want to have fun until late, the Janbo is the perfect place for you. During the day it is a quiet place to eat, while at night it turns into a big dance floor, with lots of music and drinks.
4. Courmayeur: SuperG
Could a great après ski ever be missing here? Courmayeur is now the trendiest resort in the Aosta Valley, an ideal destination for ski lovers, but also for party lovers.
The club par excellence is one: the SuperG, directly on the slopes of Plan Checrouit, which has been making young winter sports enthusiasts dance on its terraces for years, thanks to its DJ sets that leave everyone speechless.
If, on the other hand, you want to stay in town and prefer the traditional aperitif, Courmayeur's central Via Roma offers several options for a drink with friends, such as Caffè Roma, Caffè della Posta and Cable Bar.
If you prefer a high-altitude disco night, the solutions for you are: Shatush, Club Haus and The Club.
So, what are you waiting for? No matter your age, only fun counts!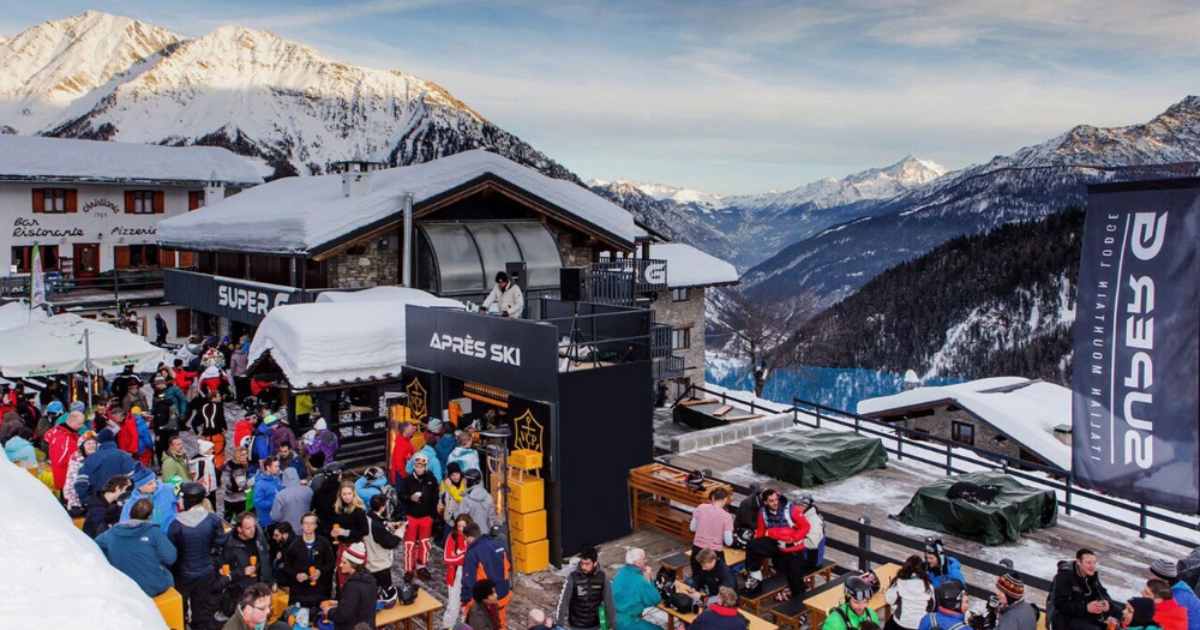 5. Livigno: Après Ski at Kosmo and Stalet
Livigno is an international destination that attracts a young, ski-loving crowd, known for its lively nightlife. This Alpine resort offers many opportunities for an exciting après ski experience to suit everyone's taste. In this area, the best après skis are two:
Not to be missed are Kosmo, for those who have skied to Mottolino and want to dance and have fun while still wearing ski boots, and Stalet, for those who have skied to Carosello. It is located next to the start of the Carosello 3000 lift and offers parties from early afternoon, with DJ sets and different themes every day. If you're still full of energy, you'll probably all meet up in the evening at the après ski at Miki's, as long as your legs can hold!
6. Madonna di Campiglio: LAB
At the end of the ski day, all the young people of Madonna di Campiglio meet at the LAB après ski, the ideal place to enjoy a fresh cocktail and enjoy beautiful music directly on the slopes. It is nothing more than an open-air bar, with chairs and deckchairs to catch the last hours of the sun, located at the Grostè valley station, at 1650 m. Don't miss this fascinating alpine scenery of the Dolomites!
7. Pontedilegno – Tonale: Rifugio Petit Pierre and Redival
Pontedilegno is a tourist resort located in the Lombardy Alps. It is known for its ski slopes and for being an ideal winter sports destination, but who says no to an après ski?
Rifugio Petit Pierre at Corno d'Aola is located at an altitude of 2,000 metres between the peaks of Corno d'Aola and Salimmo. Reachable from Ponte di Legno on foot, by chairlift, by car, or on skis, it offers guaranteed fun for everyone.
Redival, on the other hand, is the venue at the start of the Valena slope in the centre of Passo Tonale with a modern style, but at the same time with a rustic, mountain soul. A great icing on the cake to round off your day in the snow!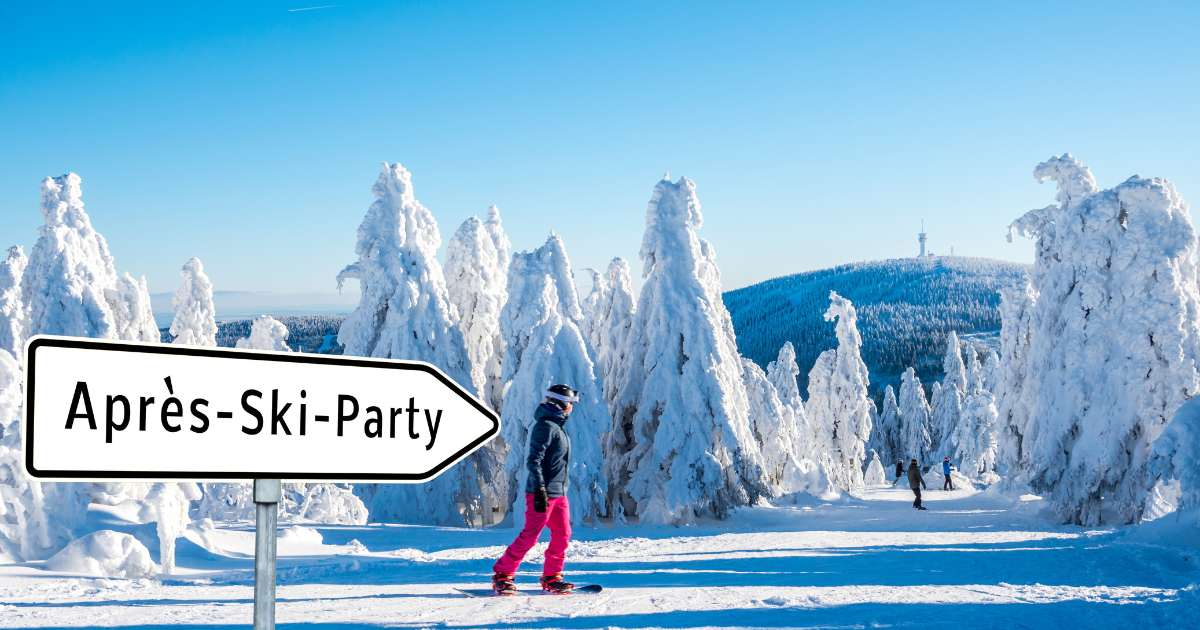 8. Sestriere: Après Ski at Gargote
The Vialattea, one of the largest ski areas in Europe, is also home to one of the best après skis in Italy. At Sestriere the rendezvous for aperitif time is undoubtedly the Gargote Fashion Café. It is a chalet on the ski slopes of Sestriere, also accessible on foot, offering parties from the closing of the ski lifts until late in the evening. Gargote is in fact a real meeting point for the many young people who animate the slopes and then meet here. Between the organised events and DJ sets, fun is always guaranteed.
Enjoy the mountains with Snowit
So, now that you've read which are the best après skis in Italy, are you ready to go wild in the snow and then enjoy a nice drink with friends or an evening, dancing to the rhythm of music?
Pack everything you need and see now what to do on the mountain with Snowit.
Remember, après skis are not just for professionals, they are for anyone who likes to have fun and relax after a day on the mountain. And in order to don't worry about anything, make sure you book everything with Snowit, the quickest and easiest way to organise your next snow adventure.
Remember also that the best way to spend these fantastic moments of fun is to experience them with your friends. However, we know that organizing a ski holiday with a group is never easy. Luckily there is Snowit to help you to plan everything.
Book a great mountain trip with Snowit now.